VMware Overview
Workstation VMware Workstation Player
VMware Workstation
Player
(formerly Player Pro) is a desktop hypervisor application that provides native virtualization capabilities and is free for personal use. It can run on your Windows/Linux operating system.
VMware Workstation Pro
A commercial license may apply to allow Workstation Player to run restricted virtual machines created by VMware Workstation Pro and Fusion Pro. VMware Workstation Pro can easily run complex on-premises virtual environments to emulate operating systems, platforms, and clouds, all from the same desktop PC. VMware Workstation Pro can run on Windows and Linux.
Download VMware Workstation Player
/Pro VMware Workstation
Player cannot be co-installed with other VMware products. If an installation of VMware Workstation Pro or VMware Server is detected on the computer where Workstation Player is installed, the Workstation Player installation displays an error message and is canceled. However, if you purchase and install VMware Workstation Pro, the version of VMware Workstation Player you purchased will be included with your purchase.
Before downloading VMware Workstation Player/Pro, you should check if your PC meets the system requirements.
System Requirements A compatible 64-bit
x86/AMD64 CPU

released in 2011 or later

Core speed of 1.3 GHz or faster
2 GB RAM minimum/ 4 GB RAM or more recommended
General host operating
system requirements
VMware Workstation Pro and Player run on most 64-bit Windows or Linux host
operating systems: Windows 10 Windows Server 2019 Windows Server 2016 Windows Server
2012
Windows 8
Ubuntu
Red Hat

Enterprise Linux

CentOS
Oracle

Linux

openSUSE Linux Enterprise
Server
Download VMware Workstation Player 16/15/14 If your PC meets the system requirements, you can start downloading
VMware Workstation Player 16/15/14
. Here are the steps
: Step
1: Go to the VMware Workstation Player download page
.
Step 2: Click the FREE DOWNLOAD button.
Step 3: Then, click on the drop-down menu to choose the version you need. Here you can choose 16.0, 15.0 or 14.0.

Step 4: In the Product Downloads part, the product name and release date will be listed. You can choose one and click the Go to DOWNLOADS button.
Step 5: On the next page, more specific information will be listed. Then, you should choose the version you need and click on the DOWNLOAD NOW button.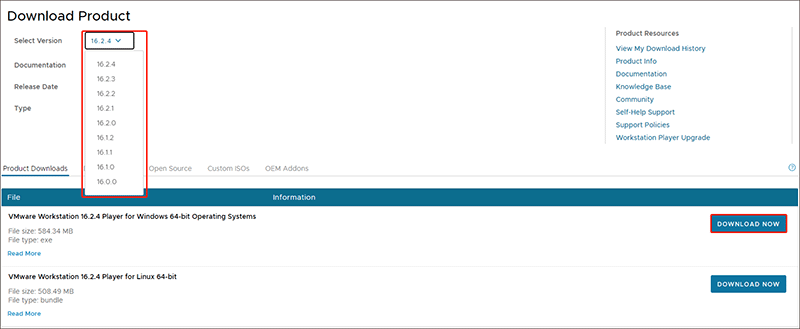 Download VMware Workstation 16 Pro To download VMware Workstation 16 Pro
, you can refer to this part
:
Step 1: Go to the VMware Workstation 16 Pro download page. Step
2: You can choose DOWNLOAD TRIAL to use the trial edition for 30 days or choose BUY ONLINE to buy now.
Step 3: Then, it will start downloading the edition of your choice.
Install VMware Workstation Player/Pro on Windows After downloading VMware Workstation Player or VMware Workstation
Pro, let's see how to install it on your PC
. Step
1: Log in to the Windows host system as an administrator user or as a member of the local Administrators group. Step 2:
Open the folder where the VMware Workstation installer was downloaded.
Right-click the installer and click Run as administrator.
Step 3: Select a configuration option
:
Typical: Installs typical workstation features. If the built-in virtual debugger for Visual Studio or Eclipse is present on the host system, the associated workstation plug-ins are installed.
Custom: Allows you to select which Workstation features to install and specify where to install them.
Step 4: Follow the on-screen instructions to finish the installation.